CFS Firms Code # L804
430 Plaza Drive, College Park, GA 30349
Phone: 404-684-6805  Toll: 1-877-994-6950  Fax: 404-684--6810
Email: ATL@SpecialService.net
Station Manager Atlanta: Fabian Gomez  Email: FGomez@SpecialService.net
Ops & Linehaul Manager: Oscar Royster  Email: ORoyster@specialservice.net
Customer Solutions Manager: Cindy Royals  Email: CRoyals@specialservice.net
Lock Out for freight dropped on our dock: Mon - Thur 20:00/Fri 18:00
Line Haul: Nightly five days a week throughout the southeast (Sunday - Thursday)
Hours: Mon – Fri 7:30 a.m. to 9 p.m. and Sun 7:30 a.m. – 3 p.m.
Outside hours by special arrangement and 24/7 on call dispatch and service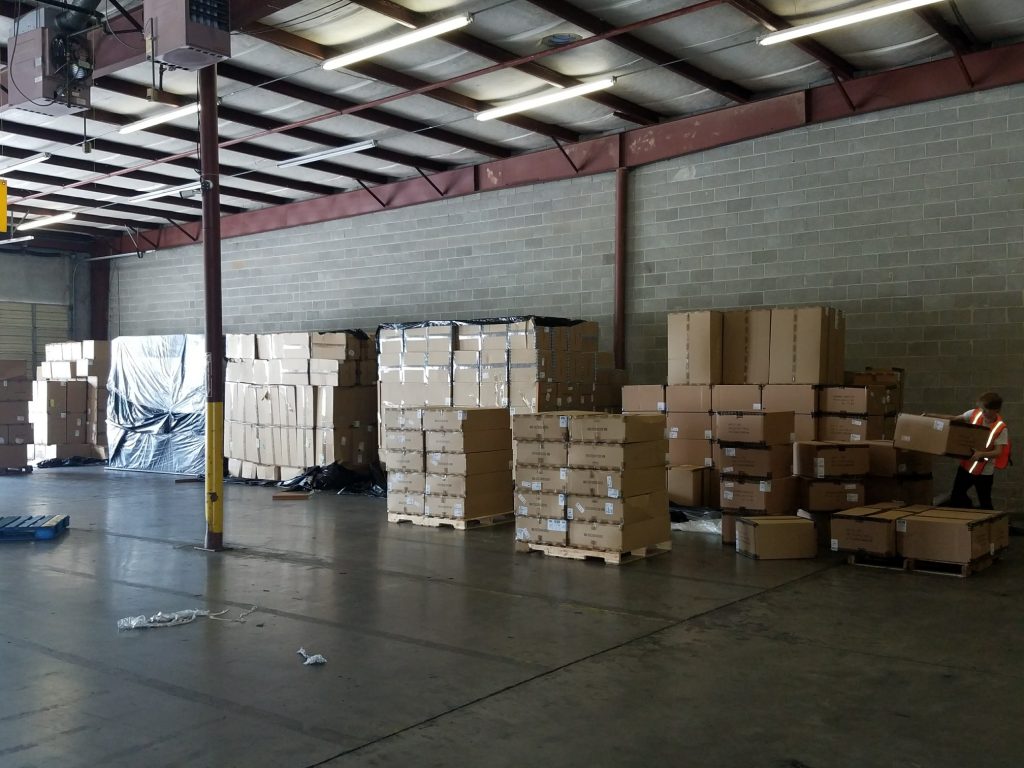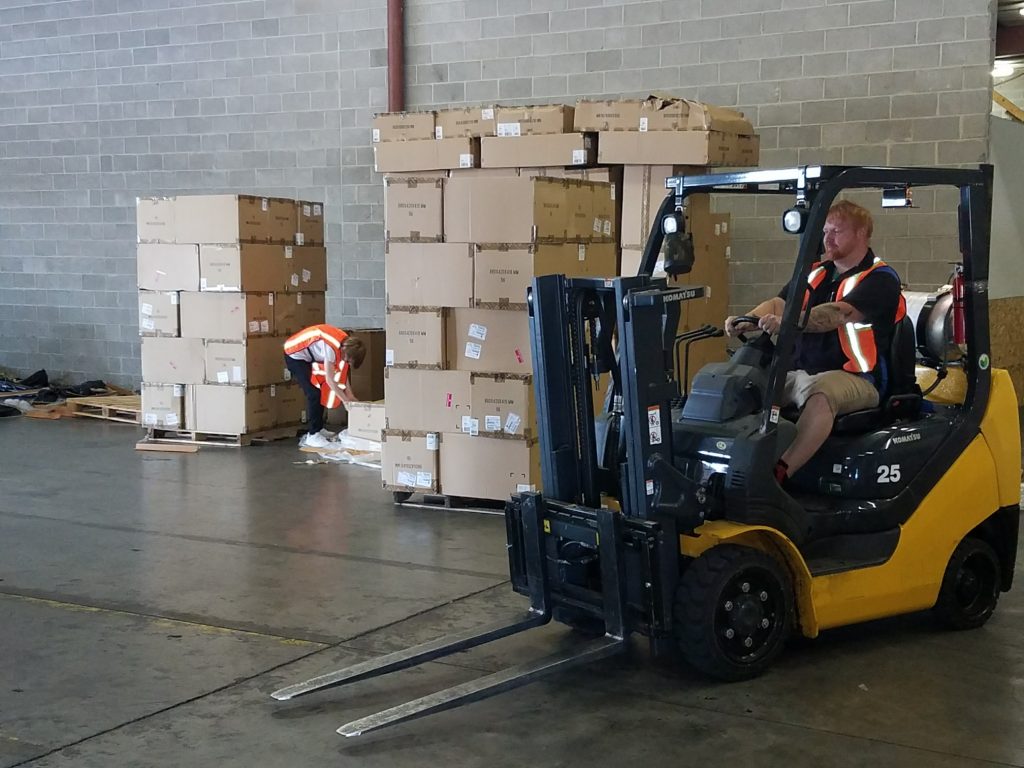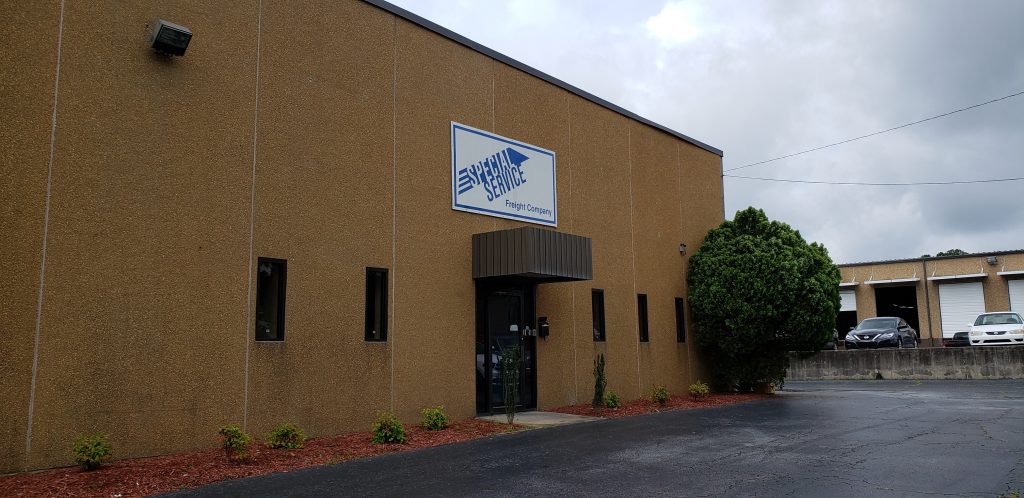 Atlanta is a full-service station located within a mile of the 'World's Busiest Airport', Hartsfield-Jackson International Airport.  This volume and intensity creates its own unique challenges for cargo.
We understand those challenges and have an experienced staff with extensive industry knowledge in Domestic and International freight. We know just what it takes to get the job done right first time, and on time.
We operate a 38,000 sq. ft. of warehouse space within five minutes of the airport, and have a 4200 sq. ft. bonded CFS area which handles truckloads of bonded freight on a daily basis.
We offer airport to door and door to door commercial and residential pick-up and delivery services, lift gate, two man deliveries, 'White Glove' and 'Retail roll outs', and PMC build up and breakdown service as well as container loading.
We provide hotshot/EUV service around the southeast.
Atlanta is the central hub for the company's Regional line haul service which operates 6 days a week.
Our equipment includes Tractors / 53' Boxvan trailers for local and hotshots, and 26' Straight Trucks with lift gates, equipped with e-Trak, straps, pallet jacks, and hand trucks.
We have Cargo van & Sprinter vans for local specials and hotshots.
All trucks have GPS tracking.
Atlanta's points list covers most areas in the A/B/C/D and E zones, and we offer specials to all other Georgia points.
Facility:
38,000 sq. ft. of warehouse space/21 dock level and grade level doors with 4200 sq ft Bonded Area.
Very large fenced storage yard.
CCTV throughout the facility.
Card controlled access and 24/7 security &fire monitoring.
Material handling equipment: Pallet jacks, Fork Lifts, dock plates, pads, dollies etc.
Services:
Line Haul nightly throughout the South East to 16 Cities in 6 States.
24/7 on call dispatch &service availability.
Local PU & D, assembly & tech / logistic inside support & Airport Transfers.
All Bonded services including breakdown and delivery.
Container de-stuffing, transloading.
Outsize loads.
Expedited exclusive use vehicles' (EUV's).
F53′ Dryvans available.
White glove 2/3/4 man crews for new & remodel installs.
Convention / Arena freight trained personnel / hot shots to next location.
Terminal storage & transfer handling.
Military & Nuclear Power Station pick up & deliveries.
Air Charter service support.
Customs Bonded vehicles.
Vehicles:
Cargo & Sprinter Vans.
Straight trucks 24′ & 26, lift gates, straps, pads etc.
Tractors – Single and tandem axle.
Trailers are 53ft dry vans.
Flatbeds upon request.
Drivers:
TSA & Customs cleared Employees & Drivers.
Criminal Background & 10 year DMV check.
Mandatory Drug Testing Program.
Atlanta, GA (ATL) Accessorials
Actual Weight or 200 DIM applies whichever is greater
Any Pick-up or delivery requested within the next 2 hours will be charged as a 'Special'
2 MAN time starts from departure & runs until return to station AND attracts an Area 'Special' accessorial
$100,000 Cargo Insurance only applicable on freight if a value is previously declared, accepted and charged, otherwise normal Terms & Conditions of Carriage apply
We strongly discourage rugs/mattresses/kayaks and other loose freight that's awkward to move and lacking packaging protection to be tendered to us for transport.
If tendered, we reserve the right to turn down a claim if packaging is found to be insufficient.
Insurance charge will increase if additional Cargo Insurance requested AND formally accepted and charged for (See Terms & Conditions of Carriage).Over
Length Freight Rule: Any shipment containing a piece exceeding 12ft (144 inches) in length will be assessed a $75 'Overlength' Fee, in addition to all other applicable charges.  Any shipment containing a piece exceeding 20ft (240 inches) in length will be assessed a $125 'Overlength' Fee, in addition to all other applicable charges.
Special Service reserves the right to defer transport of such freight until suitable space is available on its equipment.
SPECIAL DELIVERIES

| | | | | | |
| --- | --- | --- | --- | --- | --- |
| AREA | M - F 0800-1700 | M-F 1701-0759 | SAT | SUN | Holidays |
| A | 83.05 | 95.15 | 119.35 | 119.35 | 130.35 |
| B | 83.05 | 95.15 | 119.35 | 119.35 | 130.35 |
| C | 83.05 | 95.15 | 119.35 | 119.35 | 130.35 |
| D | 83.05 | 95.15 | 119.35 | 119.35 | 130.35 |
| E | 95.15 | 107.25 | 131.45 | 131.45 | 147.95 |
| F | 95.15 | 107.25 | 131.45 | 131.45 | 147.95 |
| G | 105.15 | 117.25 | 141.45 | 151.45 | 177.95 |
| H | 115.15 | 127.25 | 151.45 | 171.45 | 207.95 |
| I | 125.15 | 137.25 | 161.45 | 191.45 | 237.95 |
| J | 135.15 | 147.25 | 171.45 | 211.45 | 267.95 |

OUT OF AREA SPECIALS
| | |
| --- | --- |
| SPRINTER VAN | CALL FOR AVAILABILITY & QUOTE |
| SPRINTER VAN WAIT TIME | 30 MINUTES FREE - 40.00 MIN/$1.10 PER MINUTE |
| STRAIGHT TRUCK | CALL FOR AVAILABILITY & QUOTE |
| STRAIGHT TRUCK WAIT TIME | 30 MINUTES FREE - 50.00 MIN/1.25 PER MINUTE |
| TRACTOR - VAN | CALL FOR AVAILABILITY & QUOTE |
| TRACTOR - VAN WAIT TIME | 1Hr FREE/70.00 MIN/1.50 PER MINUTE |
| WAITING TIME - AIRPORT | 90.00/HR - 30 MIN FREE ST/60 MIN FREE TT |
ACCESSORIAL CHARGES

| | |
| --- | --- |
| AIR CHARTERS | 60.00 PER TAIL # |
| AIRPORT DROP | 55.00 MIN, 5.50/CWT |
| AIRPORT RECOVERIES | 55.00 MIN, 5.50/CWT |
| ATTEMPT - TRANSFER OR PU&D | MIN CHARGES PLUS FULL ACCESSORIAL TARIFF PLUS FUEL |
| CARNET CLEAR CUSTOMS | 75.00 FLAT - CLEAR CARNET AND RELEASE FREIGHT |
| C.O.D. OR F.C.C.O.D. | 20.00 MIN/2% OF AMOUNT/100.00CAP |
| CONSTRUCTION SITES | 50.00 MIN, 2.50/CWT |
| CONVENTION CENTER | 50.00 MIN, 2.50/CWT |
| CONVENTION CENTER WAIT TIME | 1.17/MINUTE, 1HR FREE FOR ST / 1.50/MINUTE, 1HR FREE FOR TT |
| CROSS DOCK FEE | 25.00MIN/2.00CWT |
| CUTTING BILLS | 10.00 PER HAWB |
| DEBRIS REMOVAL/DETRASH | 50.00 MIN/STD PLT 45.00/CFQ FOR CRATES |
| DECLARED VALUE | 10.00MIN/1% DV-NO DV OVER $1000 W/O CORP WRITTEN APPROVAL |
| DIMENSIONAL WEIGHT IS APPLIED | DIM FACTOR OF 200 |
| DISTRIBUTION CENTER DELIVERY FEE | THE HIGHER OF AREA SPECIAL OR 100.00 PER SHIPMENT |
| EDUCATION FACILITIES | 50.00 MIN PER MAN/2.50/CWT PLUS TARIFF |
| GOVERNMENT PUBLIC HOLIDAYS | TARRIF + HOLIDAY SPECIAL + ACCESSORIALS & 10% |
| HAZMAT | 50.00 NON-BULK ONLY/1000LB MAX |
| HAZMAT | 50.00 UPTO 2000LBS/100.00 OVER 2001LBS |
| HOSPITAL (IF NO DOCK AND GOING INSIDE) | 50.00 MIN PER MAN/2.50/CWT/PLUS TARIFF |
| HOTEL | 30.00 MIN, 2.50/CWT |
| IN/OUT HANDLING | 0.03/LB M/M PLUS WHSE FSC (4.50) |
| INBOND STORAGE FEE | 45.00 MIN/DAY 0.05C/LB |
| INBOND STORAGE FEE | 45.00 MIN/DAY 0.05C/LB |
| INSIDE | 30.00MIN/3.00CWT/100.00CAP |
| ISSUING CHECK/CUSTOM ENTRY FEE | 10.00 TO 100/50.00 TO 1000/OVER 1000 - CFQ |
| LIFT GATE | 40 |
| MALLS | 30.00 MIN, 2.50/CWT |
| MILITARY BASES | 30.00 MIN, 4.00/CWT |
| OVER THE COUNTER PU & D | 10.00 MIN. OR 4.00 CWT |
| OVER-LENGTH FEE | >144" <240' 75.00/>240" 125.00 PLUS TARIFF |
| PACKAGING (PALLET, BANDING, SHRINK WRAP) | 45.00 PER STD PLT |
| PALLET JACK/DOLLY | NO CHARGE |
| PHOTOGRAPHS TAKEN/EMAILED | 15.00 MIN UPTO 5 PIX/THEREAFTER 2.00 EACH |
| POD OR STORAGE UNIT PU&D | 20.00 PER HAWB |
| PP&E FEE | SUSPENDED FOR TIME BEING |
| PRE-SECURITY CLEARANCE | 30.00 MIN, 4.00/CWT |
| RESIDENTIAL-THRESHOLD | 30.00MIN/3.00CWT/100.00CAP |
| SECURITY & COMPLIANCE FEE | 1.50 PER HAWB |
| STADIUMS/ARENAS | 30.00 MIN, 2.50/CWT/CAP 100.00 |
| STAIRS AND ELEVATORS | 25.00 PER FLOOR/ELEVATOR USED |
| STORAGE/48HRS FREE ONLY IF WE DO PU&D | CFQ SPACE/$2.00 PER W'DAY EACH STD PALLET/CRATE |
| TRANSFER FEES | $15 MIN, $2.50/CWT |
| TSC FEE (INBOND SERVICE CHARGE) | 100.00/BILL |
| TSC FEE (INBOND STORAGE CHARGE) | 55.00 MIN/0.05C/LB |
| TWO MAN AREAS A-D | 60.00 PER HR/2HR MIN/NO FREE TIME/PLUS TARIFF |
| TWO MAN AREAS E AND BEYOND | 60.00 PER HR/3HR MIN/NO FREE TIME/PLUS TARIFF |
| ULD RETURNS | 10.00 PER LOCATION |
| UNCRATE | 50.00MIN/40.00 PER STD CRATE/PLT/PIECE |
| USED MATRESS HANDLING/DISPOSAL | 100.00 PER MATTRESS/STN RIGHT TO REFUSE SOILED MATTRESSES |
| WAIT TIME ST LOCAL & 'SPECIALS' | 30 MIN FREE/50.00MIN AT 31ST MIN/1.17 PER MIN |
| WAIT TIME T/T LOCAL & 'SPECIALS' | 60 MIN FREE/70.00MIN AT 60 +.01/1.50 PER MIN |
| WEEKEND AND OUT OF HOURS OPENING FEE | 250.00 FOR OPENING/1ST HR FREE, THEN 25.00/15 MIN/PER MAN |
Atlanta, GA (ATL) Pick-Up & Drop
CITY
ZIP
AREA
CITY
ZIP
AREA
CITY
ZIP
AREA
Acworth
30101
E
Atlanta
30390
B
Holly Springs
30142
F
Acworth
30102
E
Atlanta
30392
B
Holly Springs
30188
F
Alpharetta
30004
D
Atlanta
30394
B
Jonesboro
30236
B
Alpharetta
30005
D
Atlanta
30396
B
Jonesboro
30238
B
Alpharetta
30009
D
Atlanta
30398
B
Jonesboro
30237
B
Alpharetta
30022
D
Atlanta
31119
B
Kennesaw
30144
D
Alpharetta
30023
D
Atlanta
31131
B
Kennesaw
30152
D
ATL Airport
30320
A
Atlanta
31136
B
Kennesaw
30156
D
ATL Downtown
30354
B
Atlanta
31139
B
Kennesaw
30160
D
ATL North
30319
C
Atlanta
31150
B
Lake City
30260
A
Atlanta
30301
B
Atlanta
31156
B
Lawrenceville
30043
E
Atlanta
30302
B
Atlanta
31192
B
Lawrenceville
30044
E
Atlanta
30303
B
Atlanta
31193
B
Lawrenceville
30045
E
Atlanta
30304
B
Atlanta
31195
B
Lawrenceville
30042
E
Atlanta
30305
B
Atlanta
39901
C
Lawrenceville
30046
E
Atlanta
30306
B
Austell
30106
C
Lawrenceville
30049
E
Atlanta
30307
B
Austell
30168
C
Lithia Sprgs
30122
D
Atlanta
30308
B
Avondale Estates
30002
C
Lithonia
30038
D
Atlanta
30309
B
Braselton
30517
H
Lithonia
30058
D
Atlanta
30310
B
Brookhaven
30319
C
Loganville
30052
E
Atlanta
30311
B
Buford
30518
G
Lovejoy
30250
C
Atlanta
30312
B
Buford
30519
G
Mabelton
30126
C
Atlanta
30313
B
Buford
30515
G
Marietta
30060
C
Atlanta
30314
B
Canton
30114
G
Marietta
30061
C
Atlanta
30315
B
Chamblee
30341
C
Marietta
30062
C
Atlanta
30316
B
Clarkston
30021
B
Marietta
30063
C
Atlanta
30317
B
College Park
30337
A
Marietta
30064
C
Atlanta
30318
B
College Park
30349
A
Marietta
30065
C
Atlanta
30319
B
Conley
30228
B
Marietta
30066
C
Atlanta
30320
B
Conyers
30012
D
Marietta
30067
C
Atlanta
30321
C
Conyers
30013
D
Marietta
30068
C
Atlanta
30322
C
Conyers
30094
D
Marietta
30069
C
Atlanta
30324
B
Covington
30014
G
Marietta
30090
C
Atlanta
30325
B
Decatur
30030
B
Marietta
30006
C
Atlanta
30326
B
Decatur
30032
B
Marietta
30007
C
Atlanta
30327
B
Decatur
30033
B
Marietta
30008
C
Atlanta
30329
B
Decatur
30034
B
McDonough
30052
D
Atlanta
30330
B
Decatur
30035
B
McDonough
30053
D
Atlanta
30331
B
Decatur
30031
B
Morrow
30260
A
Atlanta
30332
B
Decatur
30037
B
Newnan
30263
D
Atlanta
30333
B
Decatur
30036
B
Newnan
30265
D
Atlanta
30334
B
Dobbins AFB*
30069
C
Newnan
30264
D
Atlanta
30336
C
Doraville
30340
C
Newnan
30271
D
Atlanta
30337
C
Doraville
30360
C
Norcross
30071
C
Atlanta
30339
C
Douglasville
30134
E
Norcross
30093
C
Atlanta
30342
B
Douglasville
30135
E
Norcross
30003
C
Atlanta
30343
B
Douglasville
30154
E
Norcross
30010
C
Atlanta
30344
A
Douglasville
30133
E
Norcross
30091
C
Atlanta
30345
A
Druid Hills
30333
B
Norcross
30092
C
Atlanta
30346
A
Duluth
30096
D
Oakwood
30566
H
Atlanta
30347
A
Duluth
30097
D
Palmetto
30268
D
Atlanta
30348
A
Duluth
30095
D
P'chtree City
30269
D
Atlanta
30349
A
Duluth
30026
D
Powder Sprgs
30127
D
Atlanta
30353
B
Duluth
30029
D
Red Oak
30272
B
Atlanta
30354
B
Duluth
30098
D
Rex
30272
B
Atlanta
30355
B
Duluth
30099
D
Riverdale
30274
B
Atlanta
30356
B
Dunwoody
30038
D
Riverdale
30296
B
Atlanta
30357
B
Dunwoody
30046
D
Roswell
30075
D
Atlanta
30358
B
Dunwoody
30060
D
Roswell
30076
D
Atlanta
30359
C
Dunwoody
30050
D
Roswell
30077
D
Atlanta
30361
B
East Point
30344
B
Sandy Sprgs
30328
C
Atlanta
30362
B
Ellenwood
30294
B
Sandy Sprgs
30342
C
Atlanta
30363
B
Fairburn
30213
C
Sandy Sprgs
30350
C
Atlanta
30364
B
Fayetteville
30214
D
Scottdale
30079
C
Atlanta
30366
C
Fayetteville
30215
C
Smyrna
30080
C
Atlanta
30367
C
Flowery Branch
30542
G
Smyrna
30082
C
Atlanta
30368
B
Forest Park
30297
A
Smyrna
30081
C
Atlanta
30369
B
Gainesville
30501
H
Snellville
30039
D
Atlanta
30370
B
Gainesville
30504
H
Snellville
30078
D
Atlanta
30371
B
Gainesville
30503
H
Stockbridge
30281
C
Atlanta
30374
B
Gainesville
30506
H
Stone Mtn
30083
C
Atlanta
30375
B
Gainesville
30507
H
Stone Mtn
30087
C
Atlanta
30376
B
Griffin
30223
D
Stone Mtn
30088
C
Atlanta
30377
B
Griffin
30224
D
Sugar Hill
30518
F
Atlanta
30378
B
Hampton
30228
C
Suwanee
30024
E
Atlanta
30379
B
Hapeville
30354
A
Tucker
30084
B
Atlanta
30380
B
Hiram
30141
E
Union City
30291
C
Atlanta
30384
B
Holly Springs
30114
F
Woodstock
30188
H
Atlanta
30385
B
Holly Springs
30115
F
Woodstock
30189
H
Atlanta
30388
B
Atlanta
30389
B